Which is a better fit for you when it comes to caravan heating?
While Reverse cycle heating units (A/C) work well when the ambient conditions are above 5C, they do not operate to provide heating if the ambient temperature falls below 5C.
A correctly designed caravan gas heater or caravan diesel heater offers the ultimate in vehicle heating.
Is your Caravan an off-road van or an on-road van?
We believe one way to make your decision on which type of caravan heating is for you is quite simple.
If you have an on road-van, a Gas Heater would be more suited and is the cheaper option.
If you have an off-road van and carry spare diesel already, then it would be a Diesel Heater.
For motorhome heating you use a Diesel Heater for two reasons:
You can tap into your existing fuel tank; and
A gas heater is very difficult to find a legal location to mount.
Factors to consider when choosing between a gas heater and a diesel heater for your caravan or RV:

What temperatures will you be travelling in?
What is the size of your vehicle?
Available space for installation
Availability of fuel sources- do you already have a diesel fuel tank or gas bottles installed and if so, what size is available? Will this be enough to sustain your required usage?
What appliances are already installed in your van? Will the heater you choose place a strain on your existing fuel source?
Do not forget to factor in the cost of installation of the unit into your vehicle.
What's the best brand of Caravan Gas or Diesel Heater?
There are a number of brands available on the market and Freezetec recommend the Truma Vario Gas Heater and the Eberspacher Diesel Heater as having proven performance and reliability for peace of mind for many years of use.
Eberspacher has been a leading brand in diesel heating for many years with D2 and D4 models available depending on your required power.
While Diesel heaters will be slightly louder than their gas counterparts, most noise can be minimised when selecting quality units and ensuring they are mounted correctly.
The VarioHeat features greater gas heating power and temperature control than ever before, with the option of two heating output levels (1.3kW or 2.8kW) as well as Boost and Night mode functions. It is simple to operate with the included digital CP Plus control panel allowing you to easily select your desired options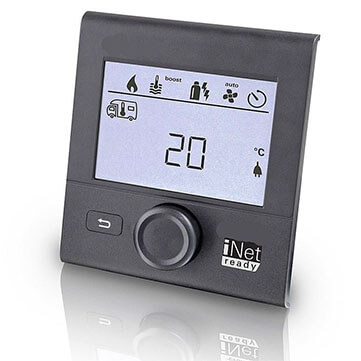 Caravan Gas Heater
LP gas heaters draw in air from an external intake pipe for the internal combustion process, where it is mixed with LP gas. This process ignites the gas and heats up the large surface area of the heat exchanger.
Pros
Most caravans already have gas appliances so adding a gas heater is relatively straightforward.
Purchase cost lower than a diesel heater
A reliable and quiet form of heating
Uses less power than a diesel heater
Gas is readily available
Cheaper unit than diesel heaters
Cons
A number of regulatory requirements apply for installation: a gas heater flue cannot be installed too close to a window, door or other gas appliance inlet or outlet, or under an enclosed annex – the same applies for a mobile heater
A licensed gas fitter is required to connect the gas heater and provide a compliance certificate
In temperatures of two degrees and under, the heater will not function as the butane in the gas bottle will not vaporise properly
"They are also very quiet to run, with only the fan creating any noise"
Caravan Diesel Heater
A diesel heater works the same way as a gas heater, drawing in air from an external pipe and passing it into the heater's combustion chamber. The air is mixed with diesel where its air is automatically ignited and heats up the large surface area of the heat exchanger.
Pros
You don't need a licence for installation
Diesel is readily available
Superior heating performance
Better temperature control
Cons
More expensive to buy than a gas heater
You need a space big enough to install the unit
Generally noisier than a gas heater
Clear space required below the heater for the exhaust
Extra diesel tank needed, usually fitted to drawbar, will increase weight including tow ball weight
 "Unlike gas heaters, diesel units do not have a flue that goes through the wall but rather an exhaust that goes through the floor of the vehicle"
As a licenced gas installer, Freezetec can provide professional advice along with quoting the supply and installation costs of your chosen caravan heating options.